RBZ VETAFSCHEIDERS
HDPE RECHTHOEKIG
De RBZ Rioolbeheer afscheiders voor plantaardige en dierlijke oliën en vetten, met een geïntegreerde slibvangput.
De afscheiderbehuizing is gefabriceerd uit 1e klas geëxtrudeerd HDPE. Het binnenwerk van de afscheider is gefabriceerd van duurzaam, KOMO gecertificeerd HDPE. Standaard wordt de afscheider geleverd met een afdekking verkeersklasse A 15 kN

De voordelen
- Compact ontwerp, met hydraulisch geoptimaliseerde slib en vet separatiezone.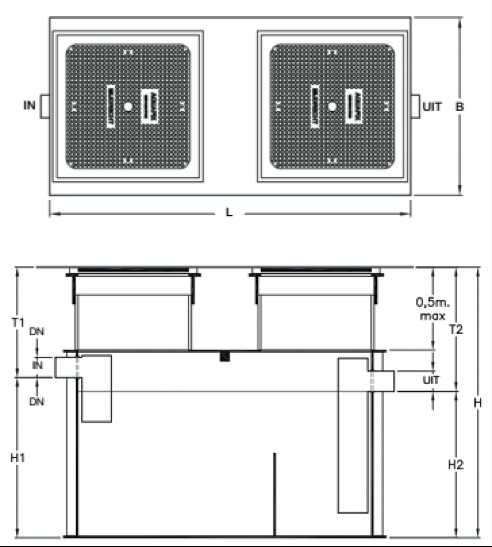 - Hoog afscheidingsrendement met een restvetgehalte welke aanzienlijk lager is dan de wettelijk gestelde minimale eis (25 mg/ltr). Gestest door het LGA TÜV Rheinland.
- Behuizing uit 1e klas geëxtrudeerd HDPE.
- Duurzame HDPE (KOMO gecertificeerde) inbouwdelen.
- Overeenkomstig NEN-EN 1825 geproduceerd.
- Afdekking overeenkomstig NEN-EN 124

De opties
- Verkeersbelasting B 125 kN of D 400 kN en/of een geknevelde uitvoering.
- Opzetstukken.
- Flexibele aansluitstukken.
- Vetalarmsignalering.
- Controleput.

De certificaten:
- CE-markering, EC Declaration Of Performance (DOP)
- LGA TÜV Rheinland rendements- en functionalitietsverklaring.
Vetafscheiders HDPE rechthoekig model